DJI Osmo Pocket 4K
A new and the smallest ever camera device from DJI with three Axis mechanical stabilizer. DJI Osmo Pocket 4K is the most smallest and compact intelligent Osmo product to record 4K videos.
It is very lightweight, approximately of 116 gram. DJI Osmo Pocket 4K can record 4K videos at 60 frame per second.
The most advanced feature is mechanical stabilization. DJI Osmo Pocket 4K also features intelligent shooting and extendable accessories which can be used like a selfie stick, mobile connection, stream to mobile etc.
The battery of Osmo pocket can shoot up to 140 minutes of video.
The main disadvantage in Osmo pocket is that it do not comes with any internal memory. For storage purpose Osmo pocket needs a micro SD card that is to be purchased separately it's not included in Osmo pocket box.
Cosmo pocket contains one piece of DJI Osmo Pocket 4K, pocket cover and one smartphone adaptor for Osmo pocket 4K to connect with Android or iPhone, 1 Osmo pocket power cable for charging and data transfer.
Osmo Pocket is small enough to fit in your pocket and most amazing thing in DJI Osmo Pocket 4K is its mechanical stabilized camera which captures up to 60 frame per second.
Weighing only 160 gram is not a big deal for pocket even for handheld operation. The dimensions of DJI Osmo Pocket 4K are 121.9 millimeter height, 28.6 millimeter width and 36.9 millimeter of thickness.
If you just imagine these specifications in mind DJI Osmo Pocket 4K is just a small tiny device like a mobile phone it has an image stabilizer that is Mechanical so it can stabilize videos and photos pretty better than any mobile or any small device in this category. DJI Osmo Pocket 4K camera and its lightweight and portable features make it more practical for any kind of mobile and portable uses.
DJI Osmo pocket equipped with 4K camera, can record up to 60 frame per second is equipped with new algorithm and it have the accuracy of 土0.005 degree.
Osmo pocket 4K camera and mechanical image stabilization. Can record very smooth videos even if you are running jumping DJI Osmo Pocket 4K can take stunning cinematic shots.
DJI Osmo Pocket 4K camera is of 1/ 2.3 inch sensor, with video of 4K up to 60 frame per second, pixel size of 1.55 micrometer. DJI Osmo Pocket 4K have capability of video recording at 100 MBPS and photos of 12 megapixel resolution.
DJI Osmo Pocket 4K enables users to use it with one hand because of its comfortable non slip and sweat proof grip. Within few adjustments, swipes and clicks on its touch screen lets you to use it within very short time to record 4K videos.
DJI Osmo Pocket 4K have many smart and intelligent features such as ActiveTrack Motion Lapse and Panorama. DJI Osmo Pocket 4K can record with FPV mode. The FPV (first person view) mode which follows the gimbal orientation to film thriller action shoots.
With ActiveTrack functionality user need to just click on the object on the screen and the DJI Osmo Pocket 4K will take care of keeping track that object and make the object to be in the center of the screen.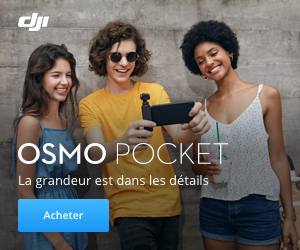 DJI Osmo Pocket 4K panorama picture mode of 3×3 capture the scene with breathtaking and high definition picture.
DJI Osmo Pocket 4K motion lap functionality captures a beautiful day or night into single shot and creates amazing and stunning time lapse videos with its highly stabilized 4K camera.
DJI Osmo Pocket 4K can capture long exposure shots without need of any tripod because its mechanical image stabilizer can capture stunning pictures and long exposure photos with extremely stable mechanical 3 axis gimbal.
It automatically detects low and extreme light and adjusts its exposure and image adjustments automatically to take breathtaking images.
DJI Osmo Pocket 4K can connect with any other device independent of operating system including Apple or Android device you can connect with DJI Osmo Pocket 4K to take and view your videos and photos on big screen.
DJI Osmo Pocket 4K can connect with DJI Mimo to create story based videos and its predefined library makes it easy to design an awesome story telling.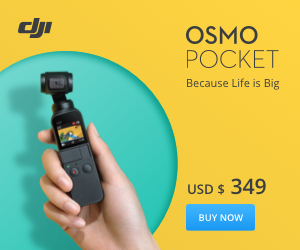 DJI Osmo Pocket 4K Pro mode allows user to take full control of its 4K camera and it just lots of camera functionalities such as exposures, light adjustment and ISO. Even taking raw photos in rich detail.